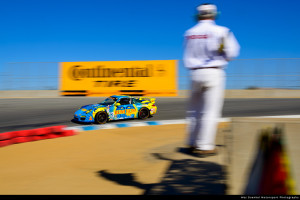 Orlando, Fla. (20 January 2014) – The two-time defending IMSA Champion Rum Bum Racing squad is ready to get the season off to another fast start, and the team has doubled down to score a big result this weekend in the home race.
The team will kick off the 2014 IMSA Continental Tire SportsCar Challenge championship in Friday's BMW Performance 200 at Daytona International Speedway (Rum Bum Racing Fans can tune into same day broadcast on Fox Sports 2 at 6:00 PM ET) with a strong two-car entry for the opening round of the 2014 season.
Rum Bum Racing will return to a two-car effort for the season-opener with 2013 IMSA champions Matt Plumb and Nick Longhi returning to the No. 13 Rum Bum Racing Porsche, while  15-year-old Kaz Grala will join sportscar veteran Hugh Plumb in the No. 03 Rum Bum Racing BMW M3.
The addition of the No. 03 BMW for the Daytona event followed a successful and productive test at the Roar Before the 24 two weeks ago when Grala and Hugh Plumb each logged laps around the 3.56-mile roval circuit driving the BMW machine during the three-day test. It was the first experience in the BMW, and first taste of professional level road racing,  for Grala, who currently competes in the United Auto Racing Association Late Model Stock Tour, and the young racer immediately impressed the team.
Rum Bum Racing will make history at Daytona as Grala is set to become the youngest driver to compete in IMSA history. He is the son of Darius Grala who raced in the GT and Daytona Prototype ranks from 2002-2005, winning at Watkins Glen in his debut race.
"Kaz did an absolutely amazing job at the test," said team manager Matt Plumb. "He really set everyone's minds at ease that he could get the job done and he fit in perfectly working well with all of us. He is very professional, especially for his young age. I also love the fact that Rum Bum Racing is once again part of making history. I think that he's going to raise some eyebrows this weekend and we are very excited to have him on board."
Rum Bum Racing, which operates its race shop in nearby Orlando, Florida, has traditionally performed well at the Daytona circuit, which features the famous Daytona high banks as well as the twisty infield sections of the road course.
The 2014 event marks Rum Bum's fifth Daytona race and the team has never finished outside of the top-five at the track. The group claimed victory in its first-ever race in 2010 in the No. 13 BMW with drivers Gian Bacardi and Matt Plumb. Rum Bum Racing returned the following year and once again claimed top honors with the No. 13 BMW. 2012 saw Rum Bum Racing take fifth at the finish. The road to the championship in 2013 kicked off with a run to the podium for Longhi and Plumb as the potent duo claimed the team's third Daytona podium as the two took a second-place finish.
"Going into this race is an insurmountable challenge because everybody raises their game," said Plumb of the season-opening event. "The one thing you can be sure of is that as the bar is raised, our crew rises with it. We have done a tremendous amount of work over the off-season to make sure we are at the level or above everybody else. Just like last year, we didn't have the five wins that we had the year before, but we had the consistency. We got the car reliable, the handling is consistent and we can make it run over a long period of time. So that is going to be our strong point and our focus, keep finishing and keep it reliable."
Rum Bum Racing is the first to field a 15-year-old driver in an IMSA-sanctioned event and the team will target another first this weekend: with a strong two-car effort, the group looks to take its first double podium finish.
"The Roar test allowed me to get comfortable in the car and with the track, both being new to me," said Grala. "Heel-toe down-shifting is a technique that I wasn't completely confident with coming into the test, but by the second day, it felt completely natural. The most important thing for me in the race will be to stay relaxed. I enjoy road racing a lot and this car is a blast to drive. I very much appreciate this opportunity from Mr. Bacardi to be with a championship winning team. I cannot wait for the race on Friday!"
The team was further encouraged in the test by the pace that the BMW showed with both Grala and Hugh Plumb at the wheel, underscoring the strength of preparation by the team as the M3 had not turned a wheel in anger for over a year yet was right on pace in testing.
"I've raced against Rum Bum Racing this team for several years, and now, getting the chance to run for this team is an incredible honor and I'm really grateful to Mr. Bacardi for the opportunity," said Hugh Plumb, who has countless laps of experience with the BMW M3 platform. "Everyone is 100% dedicated to winning, and the level of preparation is just incredible. I'm really looking forward to racing with Kaz (Grala)-he was just really incredible in the test. He approached it like an experienced 25 year old racer, not a 15 year old who was coming from a circle track background. What he did in the test was pretty amazing and I am sure he will continue to hit his marks and just keep improving. This is a great opportunity and I'm just really looking forward to Daytona."
Both cars will take to the track for official practice on Wednesday (1:30 PM – 2:30 PM, 3:45 PM – 4:45 PM). Thursday will see a third round of practice (11:45 AM – 12:15 PM) before a 15-minute qualifying session which is set to begin at 2:30 PM. A 30-minute final practice will take place at 9:45 AM on Friday with the 2.5-hour race to begin at 1:45 PM. All times are Eastern Standard.
Live timing and scoring can be followed at www.scoring.imsa.com. FOX Sports 2 will have same-day television coverage of the season opener at 6:00 PM (ET).
Rum Bum Racing Information:
2010: 3 Wins (Daytona, Trois Riviers, Miller Motorsports Park)
BMW Manufacturer Championship
2011: 3 Wins (Daytona, Lime Rock Park, Mid-Ohio Sports Car Course)
BMW Manufacturer Championship
2012: 5 Wins (Barber Motorsports Park, Homestead-Miami Speedway, Road America, Watkins Glen, Lime Rock Park)     IMSA Team Champions, Porsche wins Manufacturer Championship
2013:    3 Wins (Barber Motorsports Park, Mid-Ohio Sports Car Course, Road America)
IMSA Team and Driver Champions, Porsche wins Manufacturer Championship
Kaz Grala Bio:
At 4 years old, Kaz got his first kart – a CRG Bambino with a 50cc Comer, which he raced at the F1-Outdoors road course in Massachusetts.
At 7 he started racing year-round at F1-Boston, a multi-track indoor road racing facility also in Massachusetts. He accumulated over 100 wins and 2 championships.
At 10 he started racing Bandolero cars in Charlotte NC. This was his introduction to oval racing. He won multiple championships (oval and road course) including the most prestigious Summer Shootout at Charlotte Motor Speedway.
At 12 Kaz moved up to Legend Cars. In 2012 he won 15 of 58 races run all over the country on both ovals and road courses. Ended Legends by winning the Winter Heat Championship at Charlotte Motor Speedway in the highest and age-unlimited Pro Division.
Kaz kicked off 2013 as the youngest NASCAR driver ever to compete at Daytona International Speedway. At 14 years and 51 days old he started his first ever race in a Late Model Stock Car at the inaugural Battle at the Beach. On June 22, 2013 Kaz won his first LMSC race at Hickory Motor Speedway – becoming the youngest winner in UARA series history.
At the Roar test (Jan 3-5), Grala was 15 years and 5 days old, the youngest driver ever to participate in an IMSA/Grand-Am sanctioned event.
*2013 was another championship year for Rum Bum Racing, watch the video here: http://www.imsa.com/imsa-tv/episode/rum-bum-racing-2013-championship-season
*Youngest-ever driver in modern IMSA Era as promising young NASCAR pilot joins Rum Bum Racing for Daytona round with experienced BMW veteran Hugh Plumb
*BMW and Porsche dual-attack for 2012 and 2013 IMSA Champions