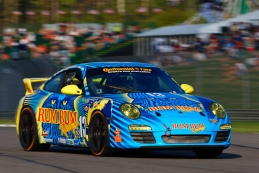 Orlando, Fla. (2 January 2014) – This weekend, Luis Bacardi's Rum Bum Racing will return to Daytona International Speedway, the site of its dramatic breakthrough debut victory, for a three day test as the team looks to score a third consecutive IMSA Continental Tire SportsCar Challenge Team Championship  in 2014.
The team has enjoyed remarkable success at the fabled high-banked track and will open the 2014 IMSA season with three days of testing during the traditional "Roar Before the 24" test. The team is pleased to have Matt Plumb and Nick Longhi return to co-drive the No. 13 Rum Bum Racing Porsche as the 2013 IMSA Driver Champions look to add to their stellar race record together.
Also on hand with Rum Bum Racing for the Roar test will be Kaz Grala and Hugh Plumb, who will be testing the No. 03 BMW M3 machine that the team first scored a victory with at the track in 2010.
Kaz Grala, who is the son of former Daytona Prototype pilot Darius, has been building a career on the NASCAR path and has already notched several championships and records on his way up. The wins and accomplishments are all the more impressive given that he is yet to turn 16 years old. (15 years, 5 days old as of the first day of the test, setting a record for youngest driver to participate in an IMSA event).
The young driver is eager to soak up as much experience as he can get as he samples the car in the test.
Hugh Plumb has raced the BMW M3 platform the last two years and will take part in the test to support Grala's progress on the track while also helping the team get reacquainted with the BMW platform.
"Nick (Longhi) and I have known Darius for ages and have literally watched Kaz grow up, so we've followed his progress in NASCAR and it's been nothing short of impressive," said Plumb. "We mentioned to Mr. Bacardi that there was a young talent who was looking to get some experience in a sports car and he was 100% behind us bringing this M3 out for the test. Hugh has a lot of current experience in the BMW so he should be a great help to Kaz to learn the car and the track as well. This is going to be another incredibly competitive season, and we have a big list of things we want to learn this weekend to be in as strong a position as possible for when we come back to race in a few weeks."
The test will run from Friday to Sunday (schedule link: http://www.daytonainternationalspeedway.com/Tickets-Events/Events/2014/Roar-Before-The-Rolex-24/Schedule.aspx). IMSA.com will post timing and scoring information throughout the weekend.
###
Kaz Grala notes:
– At 4 years old, Kaz got his first kart – a CRG Bambino with a 50cc Comer, which he raced at the F1-Outdoors road course in Massachusetts.
– At 7 he started racing year-round at F1-Boston, a multi-track indoor road racing facility also in Massachusetts. He accumulated over 100 wins and 2 championships.
– At 10 he started racing Bandolero cars in Charlotte NC. This was his introduction to oval racing. He won multiple championships (oval and road course) including the most prestigious Summer Shootout at Charlotte Motor Speedway.
– At 12 Kaz moved up to Legend Cars. In 2012 he won 15 of 58 races run all over the country on both ovals and road courses. Ended Legends by winning the Winter Heat Championship at Charlotte Motor Speedway in the highest and age-unlimited Pro Division.
– Kaz kicked off 2013 as the youngest NASCAR driver ever to compete at Daytona International Speedway. At 14 years and 51 days old he started his first ever race in a Late Model Stock Car at the inaugural Battle at the Beach. On June 22, 2013 Kaz won his first LMSC race at Hickory Motor Speedway – becoming the youngest winner in UARA series history.
– When he climbs into the Rum Bum car tomorrow, he will be 15 years and 5 days old. The youngest driver ever to participate in an IMSA/Grand-Am sanctioned event.