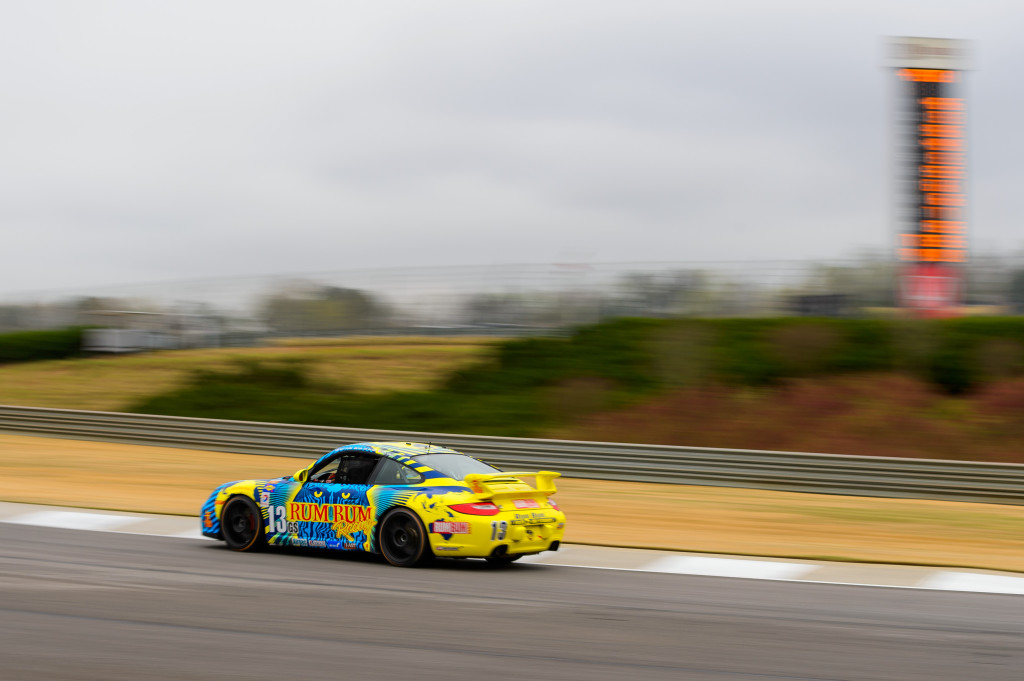 Orlando, Fla. (17 April 2013) – When Luis Bacardi's Rum Bum Racing team arrives at Road Atlanta, the driving duo of Matt Plumb and Nick Longhi will be targeting the team's 13th victory in just three years of racing as the GRAND-AM Continental Tire Sports Car Challenge makes its debut at the historic 2.54-mile world-class circuit.
Fresh off a dramatic victory in the previous round of Barber Motorsports Park, where the team rallied back from a lap down to take the win in the No. 13 Porsche, Rum Bum Racing leads the GRAND-AM championship heading into Round 4.
"It truly was one of our greatest wins just because we had to come back from such unfortunate circumstances," said Plumb of the Barber event. "We had a rough pit stop and went a lap down. We got our lap back with the wave around, but you have to keep digging the whole time. We thought we were down but this team never, never gives up. (Team owner) Luis Bacardi put together this team and all the pieces of the team just work together."
Though the Road Atlanta facility is a new venue to many of the drivers competing in the Continental Tire Sports Car Challenge Series, both Plumb and Longhi already have years of experience at the circuit – with Plumb having raced at the track in the open wheel ranks as well as in World Challenge competition and with Longhi having competed in ALMS GT competition.
"I drove at Road Atlanta quite a bit in both two liter formula cars and Barber Dodge and then World Challenge," offered Plumb. "And now I do a lot of iRacing which is amazing how similar it is to actually racing at the track. I think it's really great that GRAND-AM is going back to Road Atlanta. It's one of the cooler tracks that we have in North America so the fact that we've been missing it, is a bit of a bummer. Now that we're there again it just adds to the excitement of the Continental Tire Sports Car Challenge racing!"
"Road Atlanta is a track that I like a lot – it's one of my favorite ones in North America," echoed Longhi. "It's a real race course. It's fast and up and down hill and it's a lot of fun to drive. I like it personally, a lot. It has a great history. It's really fun to drive. It's a really great atmosphere in terms of the fans – they appreciate what they're watching. I'm very, very excited to go there. I've raced there before in ALMS in various cars years ago. But obviously in GRAND-AM we haven't been there in a few years so I've missed it a lot. It's great to be able to race there again. It's one of the greatest race tracks in North America for sure."
Rum Bum Racing Crew Chief Joe Varde, who calls the strategy for Rum Bum Racing and played a major role in securing the team's championship title last year, also has a vast amount of experience at the track. Varde is one of the most successful championship-winning road racers of the last 25 years and has plenty of knowledge of the Road Atlanta road course having driven in ALMS, Cayman Interseries and IMSA Firehawk competition – among others.
"I think it's great," said Varde of the Road Atlanta addition to the GRAND-AM schedule. "We grow up road racing and we go to all of these tracks and then when the big separation came we didn't go to Road Atlanta anymore and we missed that a lot. And now that (the two series) are back together we're going to be racing those tracks and I think it's going to be good for everybody. I've got a lot of great Road Atlanta memories. In 1983 I won the (IMSA Firehawk) race there and I had my son there on the podium – he was very young at the time and I had a picture with him on the podium and I thought that was very cool."
The weekend kicks off with a promoter test day on Thursday, April 18. Official practice and qualifying takes place on Saturday with the race set to go green on Saturday, April 20 at 11:30 AM (ET).
Live timing and scoring is available throughout the weekend at www.grand-am.com. SPEED will televise the event April 27 at 2:00 PM (ET).