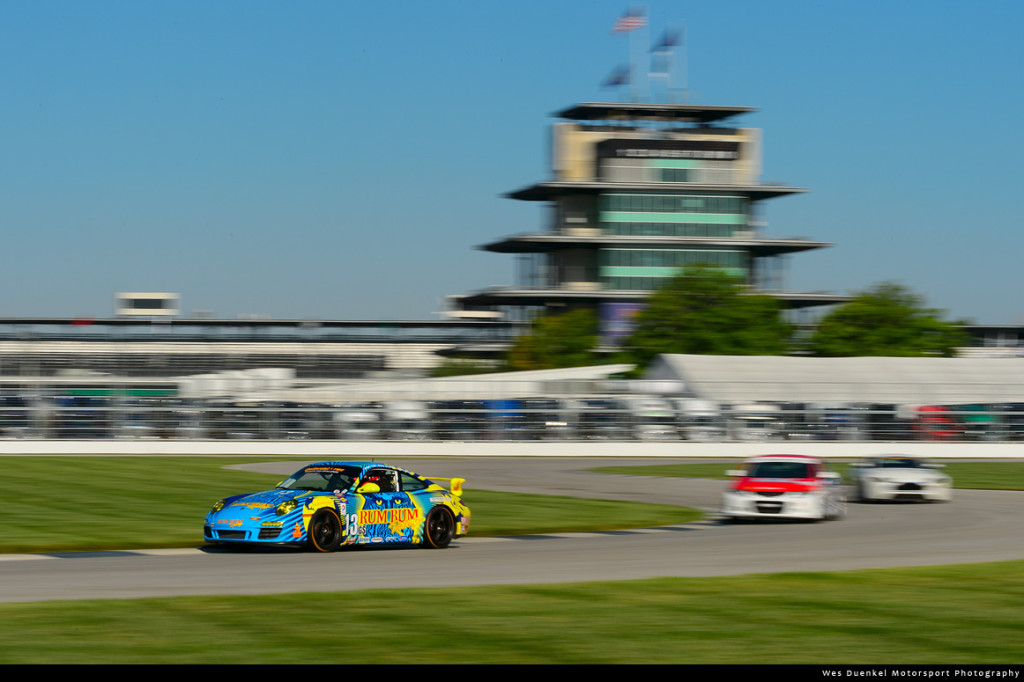 Indianapolis, Ind. (25 July 2013) – After the team took a strong second place finish in the most recent race at Watkins Glen, Rum Bum Racing was back in fighting form on Thursday.
Nick Longhi scored seventh on the grid for Friday's Brickyard Sports Car Challenge with a fast lap time of 1:36.348-seconds in qualifying on Thursday in the No. 13 Rum Bum Racing Porsche 911.
Luis Bacardi's Rum Bum Racing squad enters the race weekend with an 18-point advantage in the team championship standings as the team looks to successfully defend its 2012 GRAND-AM Team Championship. Longhi will start the race from behind the wheel before turning the car over to Matt Plumb to take to the finish.
The team, which has won the Mid-Ohio round with an all new car that the team built, will look to keep the podium momentum going this weekend. Racing at Indianapolis is its own unique challenge, as the teams don't get the chance to test on the ever-changing circuit, which has an infamously tricky surface that varies through its 2.534-mile distance as well as through the changing conditions of the day.
"This track is unlike any other that we visit. The car was very good," said Longhi. "We would love to be a little bit closer to the front in qualifying but this still is a good place to start from. Between not being able to test, and having a brand new car, we feel good. This whole team is all working from the same playbook and our focus is entirely on the race tomorrow."
The two practice sessions were both productive as the team worked through a full test plan of action items as the group looked to improve on last year's ninth place starting spot.
"This was a very solid day for us, and even though I think Nick might have been hoping for a top-five today in qualifying, we've made a lot of progress and should be good to go tomorrow," said Plumb. "It is an incredible opportunity to get to race here at the Speedway and hopefully we can just keep the momentum up with the points and fight our way into a good finish tomorrow."
The only session of the day on Friday is the race, which will go green at 2:00 PM ET and will be broadcast on SPEED, August 3 at 4:00 PM ET. Live timing and scoring is available at www.grand-am.com.