Austin, Texas (1 March 2013) – A new year, a new track, and a new state, but a familiar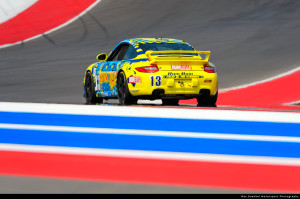 result as Nick Longhi wheeled the No. 13 Rum Bum Racing Porsche to third on the GRAND-AM of the Americas grid on Friday at the Circuit of the Americas.
The event weekend marks the debut for the Continental Tire Sports Car Challenge Series at the track for Round 2 of the 2013 championship season. Longhi will open the 2.5-hour race (SPEED, March 9 4:00 PM ET) from behind the wheel before turning the car over to co-driver Matt Plumb to take to the finish as the duo chase a 12th win for Rum Bum Racing.
Longhi's fast lap time of 2:32.097-seconds around the 3.4-mile, Formula-1 grade circuit marks the second consecutive top-five start for Luis Bacardi's Rum Bum Racing so far in the 2013 GRAND-AM season as the team looks to defend its maiden GRAND-AM Team Championship from 2012.
"I caught traffic on what I thought was going to be my fast lap," said Longhi. "The team sent me out at exactly the right time for my second flying lap. But on my third lap, I caught two guys who were  stragglers. I  backed up to try to get another fast lap in, but just ran out of time for the session. With this team, you always expect to be strong. We were hoping for the pole, but all in all, this is a very good race car and we should be strong tomorrow."
Live timing and scoring can be followed at www.grand-am.com. SPEED will broadcast the event Saturday, March 9 at 4:00 PM (ET).