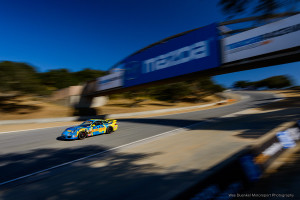 Monterey, Calif. (2 May 2015) – Rum Bum Racing continued its positive start to the 2015 IMSA Continental Tire SportsCar Challenge championship by taking a fourth place finish at Mazda Raceway Laguna Seca. Drivers Hugh and Matt Plumb opened the season with a victory at Daytona and then a podium result of third at Sebring, and Saturday's fourth place finish brought in a healthy haul of points toward the team's 2015 championship run.
While happy with the championship points collection, the team was left wanting more after a repeat trip to the podium was thwarted with some bad luck timing during the race's four caution periods.
Hugh Plumb opened the race from fourth on the grid and wasted no time in making his way forward. He took over third position on the first lap and had moved into second within the first 20 minutes of the race. On a track that tends to suit the large-displacement V8s of the Camaros and Mustangs, Hugh Plumb put on quite a show by staying within tenths of the leading No. 9 Camaro during the opening run.