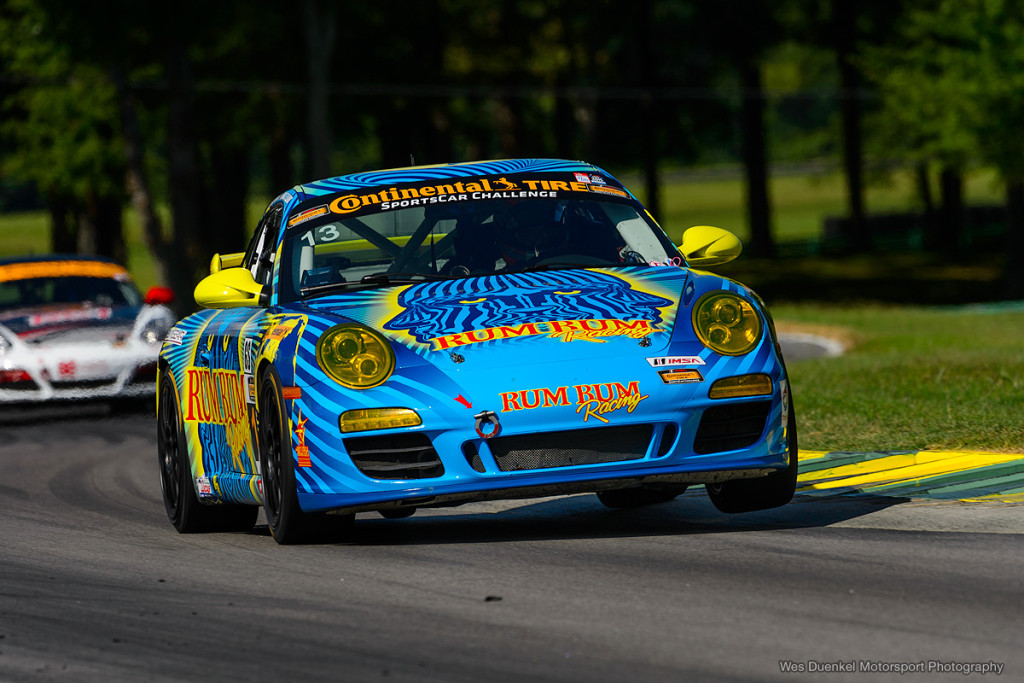 Orlando, Fla. (15 September 2015) – When it is time to step up to the plate, it is good to have some experience under the spotlight. For Rum Bum Racing, the stage is set as the team looks to make the most of the final two races of the 2015 IMSA Continental Tire SportsCar Challenge season as drivers Matt and Hugh Plumb head to Circuit of the Americas (COTA) this weekend.
The team is fresh off of a huge victory in the previous round at Virginia International Raceway three weeks ago in which another brilliant strategy call from Crew Chief Joe Varde saw the No. 13 Rum Bum Racing Porsche come out on top.
With the win, Rum Bum Racing gained ground in its championship hunt and now sits just 10 points out of the top spot heading into the COTA round. The team has two IMSA Championships to its credit, and would love nothing more than to add to that legacy of success.
Rum Bum Racing has made two previous starts at the 3.427-mile Texas road course located outside of Austin which is one of the crown jewel racing facilities in North America. Starting third in both outings, Rum Bum Racing finished fourth in 2013 but suffered some bad racing luck in last year's race after a piece of debris caused the serpentine belt to come off during the first pace lap.
But the persevering Rum Bum squad made a quick fix and lost just two laps as the team clawed back for 14th at the finish.
So far this year, the 2015 IMSA season has seen the Rum Bum team take three victories and five podiums in eight races. The organization aims to add a similar performance at COTA on Friday.
"VIR was just incredible and an awesome highlight for this entire team, but now we are all focused ahead on what we've got to do in these next two races," said Matt Plumb. "As much as we want to do well in the championship, we can't really be thinking about it. We just have to run as hard as we can these two races and execute as a group like we've been doing and see where things end up. COTA is a great track, and after our bad break there last year hopefully we can get a little bit better luck this Friday."
The COTA event kicks off with practice on Wednesday, with another practice and qualifying session on Thursday. The 2.5-hour race is set to go green on Friday at 12:40 PM Central Time. The race will be streamed LIVE on IMSA.com.
FOX Sports 1 will televise the event on Sunday, September 27 at 1:30 PM ET.