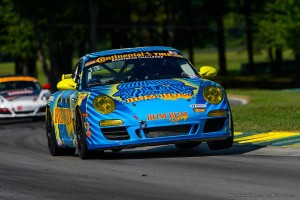 Alton, Va. (21 August 2015) – Luis Bacardi's Rum Bum Racing will start from the second row of the grid at Virginia International Raceway on Saturday which marks Round 8 of the IMSA Continental Tire SportsCar Challenge championship. Hugh Plumb took the No. 13 Rum Bum Racing Porsche to a fast lap of 1:58.582-seconds around the 3.27-mile Virginia road course to a fourth place starting position.
The qualifying effort marks Rum Bum Racing's seventh start this year among the first two rows of the grid.
Hugh Plumb will open the 2.5-hour IMSA Continental Tire SportsCar Challenge race before turning the No. 13 Porsche over to his brother and co-driver Matt Plumb who will take the car to the finish. The previous two times the Plumb brothers have teamed together at VIR, the pair has driven to victory lane.
Fresh off of winning at Road America two weeks ago and gaining ground in the championship hunt, the Rum Bum squad is looking for a repeat performance at VIR on Saturday.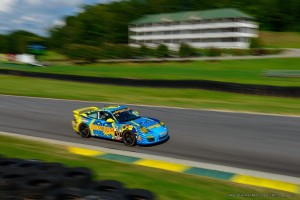 "Thanks to the Rum Bum guys here they did a great job preparing the car and we have a good car for long distance," said Hugh Plumb. "For one lap we're not the quickest car in the field, and I'm okay with that. I know we'll bring it to them tomorrow both on the race track and in pit lane. We'll do what Rum Bum does best, which is go to the front and stay there."
The 2.5-hour race is set to go green at 1:25 PM ET and will be streamed LIVE on imsa.com and on the IMSA app. Follow @RumBumRacing on Twitter for updates throughout the race!