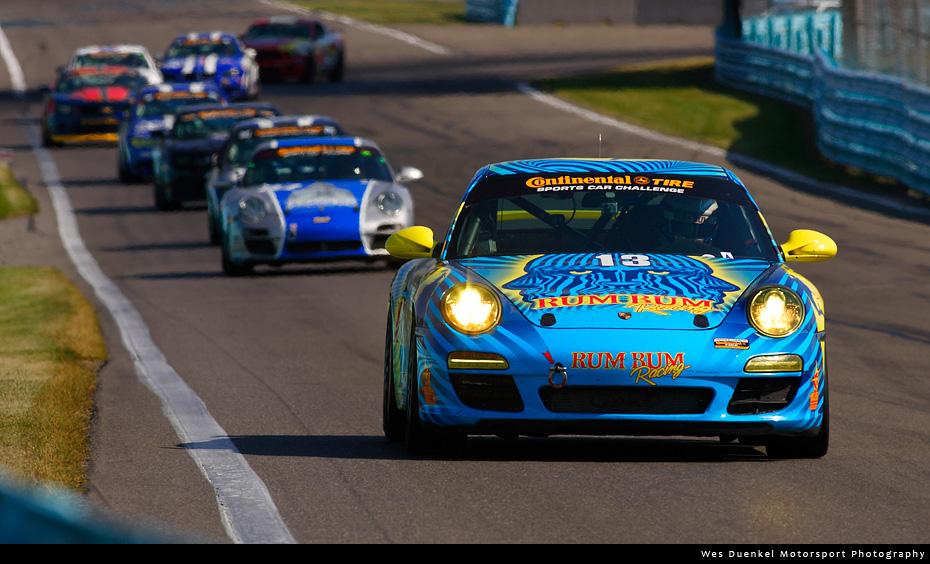 Orlando, Fla. (25 June 2013) – Not only is Luis Bacardi's Rum Bum Racing fresh off of the team's most recent victory at Mid-Ohio Sports Car Course two weeks ago, but as Nick Longhi and Matt Plumb return to Watkins Glen this weekend they enter the event as the defending Continental Tire 150 race winners. The duo head to the fabled upstate New York track with an 11-point advantage in the GRAND-AM championship with five rounds in the books.
The Mid-Ohio victory was a big one for Plumb as he became the winningest driver in GRAND-AM Continental Tire Sports Car Challenge Series (CTSCC) history when he claimed his 15th–career  overall CTSCC win.
"I was surprised to find out about that statistic, but most of that success-and those wins-is just a result of being a part of this Rum Bum Racing team that Mr. Bacardi assembled," said Plumb. "Wins are great of course, but the big focus is the championship. The plan was to come away with points from Mid-Ohio with a car all straight and undamaged for the next round. With these close races back-to-back it really sets you back if you bang up the racecar, you go to the next weekend and you're just a little bit more behind. We've got a good car – a winning car – and we're going into a place where we won last year, so the confidence is high."
Longhi and Plumb dominated the Watkins Glen event last year on their way to winning the 2012 GRAND-AM team championship by leading a race-high 17 laps in the No. 13 Rum Bum Racing Porsche en route to the win. It marked the team's fourth of five wins in last year's 10-race season and helped Rum Bum Racing secure the 2012 team championship title in just its third year of CTSCC competition.
In a shrewd strategy move, Rum Bum Racing crew chief Joe Varde made the calculation to be the first car to take the last pit stop in last year's race with a bold move to bring Plumb in under green flag conditions with over an hour yet to run.
While the significant loss of track position from the stop seemed to signal the end of the day for the team, a series of yellow flag caution periods meant that the team made up the lost ground while also being able to conserve fuel for the final stages of the race. That paid huge dividends as Plumb raced from third to the lead in the final laps, scoring a victory by just .336-seconds.
"We knew what our (fuel) window was, and we just focused on doing what we had to do so that we could pit then and still be good to go the distance," said Varde of the 2012 Watkins Glen win. "Our car carried a lot of extra weight from GRAND-AM, so we knew we were not going to take it on pace. We had a quick car, but not enough muscle to move up in the pack. This series is incredibly competitive. So we had to figure out another way to win, and I couldn't be happier with how it turned out."
Having sat among the top of the point standings for much of the 2013 season to date, Rum Bum Racing currently leads the championship and is hoping for a repeat performance as the team targets another trip to Watkins Glen victory lane and a healthy haul of points toward the 2013 championship.
"We knew last year that we had to pull a bit of a rabbit out of the hat to win the race, so hopefully we can have the pace to be competitive this year," said Longhi. "We are lucky to get to race on tracks like Watkins Glen and I think you see the whole field raise their game when we go there. The fans are just awesome—really knowledgeable about the sport and so enthusiastic about the show that we put on. It is special to be going back there as defending winners, and hopefully we can do it again this year!"
The Continental Tire 150 at the Glen event opens on Thursday with a promoter test day followed by official practice on Friday. A 15-minute qualifying session will take place Saturday morning at 10:40 AM (ET) with the 2.5-hour race set to go green at 3:00 PM (ET) Saturday.
Live timing and scoring is available at www.grand-am.com throughout the weekend. SPEED will televise the Continental Tire 150 Sunday, July 7 at 4:00 PM (ET).