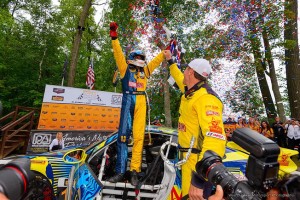 Elkhart Lake, Wis. (8 August 2015) – It was another huge result for Luis Bacardi's Rum Bum Racing at Road America on Saturday as the team delivered its 17th overall IMSA Continental Tire SportsCar Challenge victory. The result marked Rum Bum Racing's third win in four years at Road America and saw the squad close the gap to the championship leader with just a provisional 15-point separation between first and second in the standings.
Wisconsin is the home state of Jennifer Bacardi, so with both Luis and Jennifer Bacardi on hand as well as a big crowd of Rum Bum supporters, the celebration was extra special for the entire organization.
Matt Plumb, who partnered with his brother Hugh Plumb in the No. 13 Rum Bum Racing Porsche for the run to victory, became the winningest driver in IMSA Continental Tire SportsCar Challenge history with a total of 21 wins.
"The whole Bacardi family is here to see us and be a part of this which is huge," said Hugh Plumb from Victory Lane. "I couldn't be happier for Matt (Plumb), who is the guy to have in the car at the end, and to celebrate with all of these people. Matt did an absolutely incredible job there. I just can't say enough about everybody on the Rum Bum crew. It's unbelievable, they deserve this."
Hugh Plumb opened the race from the front row after Friday's qualifying session was rained out and the grid was set by championship point order. Starting second, Hugh Plumb wasted no time in moving forward as he took the lead into Turn 1 and didn't look back.
He had extended his leading margin to a 10-second advantage when a full course caution was displayed about 30 minutes into the race. The Rum Bum team took the opportunity to pit for four tires and fuel and Hugh Plumb remained in the car. When the race went back to green, Hugh Plumb restarted 10th in line but was back up to third in the order in a matter of laps. He regained the lead an hour into the race and remained there until slipping to second with just over an hour to go.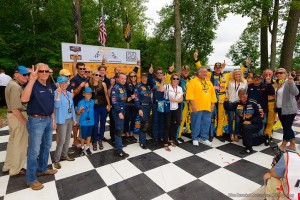 With 55 minutes remaining in the race, Crew Chief Joe Varde called the No. 13 Rum Bum Racing Porsche to pit lane under green flag conditions for the team's second and final stop. A perfectly executed full service stop ensued with Matt Plumb taking control of the car and returning to the field eighth.
Matt Plumb moved to the front of the pack with just 43 minutes to go, and held off the vigorous charge from a Nissan with fresher Continental Tires to score a dramatic victory on the team's adopted home track.
"The Nissan had fast pace, even at the beginning of the race you could see it clicking off fast laps when it was free of traffic," said Team Manager and driver Matt Plumb. "I knew that once they got clean of traffic and were in sight they had a really good chance of out pacing us. As I looked in my mirrors and saw Trent Hindman battling to keep the Nissan behind him I just kept saying to myself 'keep ahead because as soon as Zacharias breaks free he's going to run me down'. For the last five years I've been really truly honored to be a part of this Rum Bum team. I couldn't be happier to be in the position I'm in at the moment and I'm certainly enjoying it."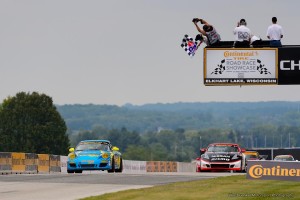 Rum Bum Racing will look to carry its winning momentum into the next round of IMSA Continental Tire SportsCar Challenge competition at VIRginia International Raceway on August 21-22.
FOX Sports 1 will televise the Road America event on Monday, August 17 at 8:00 PM ET.