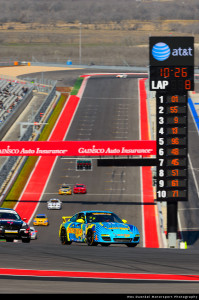 Austin, Texas (2 March 2013) – After winning the 2012 GRAND-AM Championship, Luis Bacardi's Rum Bum Racing is once again back on top as the team scored a fourth place finish at the Circuit of the Americas to move to the top of the Continental Tire Sports Car Challenge Championship. Both Rum Bum Racing drivers Nick Longhi and Matt Plumb led during the race as the duo once again made the most of the preparation from the Joe Varde-led crew.
The race (which will air on SPEED, March 9 4:00 PM ET) saw Longhi start from third in the order and run in the top four during his opening stint. The world-class facility set the stage for an exciting battle, with Longhi in the thick of the fight. But the New York-based racer has seen the ebbs and flows of championship campaigns, and knew that it was key to keep the nose clean and the big picture in mind.
"You always prefer to win, but you have to be smart," said Longhi. "There were a couple of guys ahead of us who weren't important as far as points. They were willing to take chances and wreck their cars just to get one spot on the track, whereas that is just not a good gamble for us. The team was flawless as usual, and the car was great. Onward and upward."
After moving to the lead of the race, Longhi turned the car over to Plumb with the car in podium position – Plumb returning to the fray in fifth. A big battle for the podium ensued, with some close racing also leading to some hard and mis-judged contact from some familiar sources. But Plumb avoided any issues to be ready to fight at the finish. A final pit stop that featured a two-tire change didn't harvest the seeds of the strategy call following an extended yellow period, but the the No. 13 Rum Bum Racing Porsche was able to still fight to the finish and score fourth, locking in 60 points to move to the top of the charts with two rounds of racing in the books.
"It was a good points race, and it's great to get to the lead in the championship," said Plumb. "Our pit stop strategy was great–had it not gone yellow everyone would have had to come in for fuel. You have to make the most of what the opportunity is, and we did that this weekend. The team did another great job, and we will just keep building on this. We are already looking forward to getting to Barber!"
SPEED will broadcast the event Saturday, March 9 at 4:00 PM (ET).
Rum Bum Racing will be back in action again April 6th at Barber Motorsports Park. The team debuted with the Porsche at the track in 2012, scoring a dramatic breakthrough victory and will target a similar outcome.