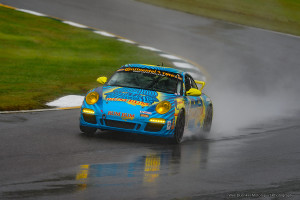 Orlando, Fla. (25 January 2016) – There is no place like home, and for Rum Bum Racing, Daytona International Speedway is as close to home as you can get on the IMSA schedule.
For fans of Luis Bacardi's Rum Bum Racing, it'll be a familiar sight at Daytona International Speedway this weekend as the team looks to add to an already-incredible run of success at the World Center of Racing.
The opening round of the 2016 IMSA Continental Tire SportsCar Challenge championship takes place at the Orlando-based team's home track and the organization returns to race with the well-developed championship-winning No. 13 Rum Bum Racing Porsche that the squad has utilized since it made its race-winning debut in 2012.

Also returning for 2016 are Rum Bum Racing drivers Matt and Hugh Plumb, as the fraternally-linked duo look to build on their run to second place in last year's IMSA championship standings.
Not only is Daytona International Speedway Rum Bum Racing's home track, the team has set a high bar for success at the 3.56-mile road course. Since debuting in 2010, Rum Bum Racing has taken home three victories, four podiums, and five top-five results at Daytona. On a track that often features late-race lead changes, Rum Bum Racing  has shown strength from start to finish, having led laps in every race it has ever run at Daytona, for a total of 116 laps led and 31% of the time the car's been competing on the Daytona circuit.
"We are very excited to be back on the banks of Daytona, it is always a fan favorite and one we love to perform at," said driver and Team Manager Matt Plumb. "We are also glad to be back with IMSA and to be working together with the organization to build this into the best championship season yet. IMSA has been there to host our finest moments and that has not been forgotten."
Despite its relative age to the field, the No. 13 Porsche 997 looks to capitalize on the car's "wisdom" to beat the competition.
"We are up against some very strong competition from the new Mustangs as well as the all-new Porsche GT4," added Matt Plumb. "However, over the last four years we have consistently improved the handling and reliability to match some of the newer cars' pace. Ultimately it comes down to team work. Rum Bum Racing has some of the best pit work and strategy which we will have to nail race after race and then it is up to Hugh (Plumb) and I to make it happen."
Rum Bum Racing tested the No. 13 Porsche at the annual 'Roar Before the 24' test days at Daytona earlier this month to prepare for Friday's endurance challenge.
The 2.5-hour race, which is held as part of the big 54th Rolex 24 At Daytona event, will take the green on Friday, January 29 at 1:45 PM ET. The event will be televised on FOX Sports 1 on February 13 at 8:30 AM ET.
You can watch the race LIVE on IMSA.com.